Photo: weheartit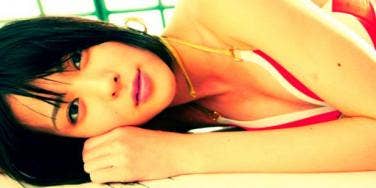 Sure, beauty's in the eye of the beholder, but these tips don't hurt either.
Whether it's eliminating that dreaded double chin or wishing we'd adjusted our posture to look thinner, we all have photos we know we could have looked better in.
When posing for photos, here are some easy beauty tips and tricks of the trade that make us look our best ... a lot of which has to do with how we stand and the angles we choose.
1. Plucking stray eyebrow hairs instantly brightens up the eye area.
"I may not have had the pleasure to meet a woman with nose hairs reaching out like zombie arms trying to attack me (men you know who you are), but as a well-manicured yard requires trim work, so does the face and body," says Jenny Kawa from Hollywood Pop Gallery.
Women, if you regularly wax or tweeze eyebrows and/or lip hairs, be sure to do so before a photo session. If this is something you've never thought to do, take a look in the mirror and access whether or not you should.
Also, foundation makeup applies more smoothly when excess facial hair is removed.
2. Iron your clothes to appear less like a slob.
"Wrinkles on the face are beautiful to me. They are earned and tell the story of a person's life," says Kawa.
Wrinkles in a person's clothing options for their photos, however, is a no-no. Either iron your clothes at home or take them to the cleaners to be steamed prior to your session.
Kawa continues, "If you walk into my studio with a 'laundry basket button-down shirt,' I will hand you my iron (but I will want to throw it at you)."
3. Sit up straight to grow two inches AND lose two pounds.
Get to know your body and how to display it properly from the foundation up. Grab a chair and place it in front of a full length mirror, preferably one in a private room where you can be alone. Sit in that chair, in front of the mirror, wearing only your undergarments.
"I am confident that if you are not immediately sitting straight up and adjusting your body angles to the most flattering degrees, you will be very soon. Practice this standing as well, and before long you will know the best way to properly show off your body with or without clothes," says Kawa.
4. Wear the right-sized bra and undies to avoid muffin-top/bottom.
Perfect posture can do wonders when it comes to the torso and chin regions; however, healthy alignment is instantly destroyed by improperly fitting undergarments and clothing choices.
Bras are notorious for creating lumps and rolls in naturally smooth areas, so be extra attentive to the piece you choose to wear on photo day.
This same rule applies to underwear. Briefs with thin/tight elastic bands can create muffin top as well as muffin bottom. Opt for footwear with a little bit of a heel; immediately, the line of the leg and buttocks area is improved.
Remember, you may look great naked, but you'll look amazing naked ... and in heels.
5. Always photograph from eye-level or above.
Getting photographed from below can add the illusion of a double chin, so make sure the camera is at least at eye-level, says photography pro Hari Simons.
relax.jpg
When it comes down to it, one of the best things you can do is simply relax, says Simons. If you're stressed about how you look, that feeling will come through.
So just smile naturally and have fun!
Previous
Next
BEGIN