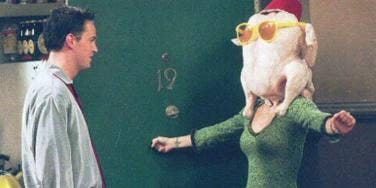 Host this fun holiday without going crazy.
When people talk about Thanksgiving, they usually imagine a big dinner with family. It involves fielding uncomfortable questions from relatives you only see once a year, getting into heated political debates, and inexplicably dressing up in your best clothes just to sit in your own dining room.
There are arguments, laughs and many bellies full from indulging in those family recipes. It's a good time, but it's definitely not the only way to celebrate the fall holiday or host a party.
---
---
For some people, the thought of spending an entire day trapped in the house with family is an actual nightmare. For others, travel expenses or work obligations make it impossible to get home for the big day.
Either way, here's some breaking news: You don't have to spend Thanksgiving with people related to you just because a Norman Rockwell painting said so. Thanksgiving may be trademarked as a time for family, but it's also the perfect time to get together with friends — AKA the family you get to choose.
Friendsgiving is a great alternative and requires less traveling if you live far from home. But when it comes to thinking of Friendsgiving ideas, you may "fall" a little short.
Another perk is that instead of awkward conversations with distant relatives, you can have fun ones with the people you constantly choose to spend your time with, rather than the ones you're just biologically obligated to tolerate. Shows like Friends, New Girl, and The Mindy Project have shown how great Friendsgivings can be — although not without their share of zany misadventures.
While your own Friendsgiving ideas for a celebration don't demand the same level of comedic upset to pull in ratings, it does take a good amount of energy to plan. Even if you choose to forego the traditional turkey feast in favor of an updated, low-key Thanksgiving dining experience, you still need to have dinner planned out, enough room for your guests, and entertainment for after the big feast.
---
---
No need to worry though! If you want to host a party for this holiday without going crazy, just follow these seven tips to have a Friendsgiving to remember.
1. Don't be afraid to ask your friends to pitch in.
Hosting a holiday party is already tough. Don't stress yourself out even more by trying to cater the whole shindig by yourself. Ask your friends to bring their favorite dish to the party. That way they won't leave missing their favorite home-cooked meal and you get a little more room to breathe.
2. Include your family traditions.
Although you aren't spending Thanksgiving with your relatives, you can still have them there in spirit by doing some of your traditions with your friends. Does your family have everyone go around and say what they're thankful for? Do they play football before dinner? Do that!
3. Keep track of your guest list.
You'd like to tell your friends to bring around anyone who doesn't have a place to go to on Thanksgiving, but you need to be realistic. All of your guests should have seats, enough drink, and enough food. Really keep on top of your guests list and remember how many you can accept.
4. Start tackling the menu ahead of time.
It's easy to lose track of time, but Thanksgiving is no joke! Make any dishes you can days before so you're not in the kitchen all day. Any other tasks like decorating and shopping should also be done beforehand.
5. Line up activities.
Yes, there is usually football on but you should have stuff available for the people who aren't interested in watching the game. Board games, cards and charades are some fun options.
6. Make sure you have enough booze.
You don't want to run dry and have someone make a run when they are already stuffed and tired from eating turkey. Look at your guest list and accommodate by having at least one bottle of wine per guest and one of champagne for every two guests.
Beer is tricky, but there are online calculators to tell you how much to serve. When all else fails, make the party BYOB.
7. Don't forget the ice.
No one likes warm drinks. Get a cooler if you need one and get a lot of ice.
Previous
Next
BEGIN